Products
Latest news
Contact us
ADD: Room310, Building 3, No.689 Qingshan Road, Licang District, Qingdao, China
TEL: +86-532-84673460
FAX: +86-532-84673460
Phone: +86-15376739580
E-mail: aimee@qdjoysun.com

> Products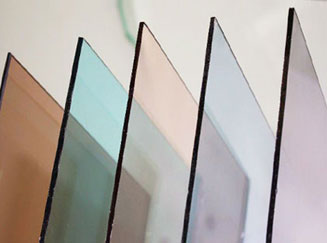 PRODUCT INTRODUCTION
Tinted float glass
Tinted Float Glass is produced by adding metal oxides during the manufacturing of clear float glass at the smelting stage. Tinted glass absorbs and re-radiates solar energy reducing heat, providing cost efficient climate control. It also reduces sun glare and is aesthetically appealing.
Advantages
• low UV transmittance rate and good sunshade efficiency to protect furniture and furnishing fading.
• Energy saving, reducing solar glare and heat transmission.
• Can be cut, bent, tempered, heat strengthened and laminated.
• High value creation by color variety of building's exterior appearance
• Ensures Privacy,it is difficult to see in, protecting the privacy of those inside. But, from the inside, it is possible to see the outside clearly.
Application
• External use of windows, doors, balcony, curtain wall, etc.
• Interior glass screens, partitions, balustrades, etc.
• Furniture like table tops, showcases, shelves, etc
Specification
Thickness: 3mm,4mm,5mm,6mm,8mm,10mm,12mm
Size: from min 150x100mm to max 9000x3300mm
Color: Main available colors are bronze, grey, blue, green and black Tinted Float Glass